SUSTAINABILITY AT SOBREMESA VILLAS
Sobremesa Villas infuses eco-friendly designs with the upscale touches you desire. Where sophisticated details make a big difference, discover a home of extraordinary efficiency and comfort.
OPTIMIZED EFFICIENCIES SAVING YOU MONEY
Featuring Energy Star Certifications, Sobremesa Villas incorporates innovative adoptions that reduce the cost of your monthly utility bills, without sacrificing comfort. Equipped with upgraded Bosch energy-efficient appliances, these homes were designed with sustainability in mind.
Our Smart Home Technology packages provide remote control of your heating, cooling, and dim lighting with the touch of a button. Enjoy the convenience of automation and save on everyday costs.
HERCUWALL CONTRUCTION
Enjoy heightened noise reduction and cost savings with HercuWall™. The walls of your home are built with a green building system that offers superior privacy, efficiency and safety. The airtight design and insulation help keep your heating and cooling system working at peak performance.
Resident Benefits: 
Up to 40% savings on energy costs
Enhanced in-home noise reduction
Built without wood, HercuWall™ protects forests 
Learn more about HercuWall™ at Sobremesa Villas​ here.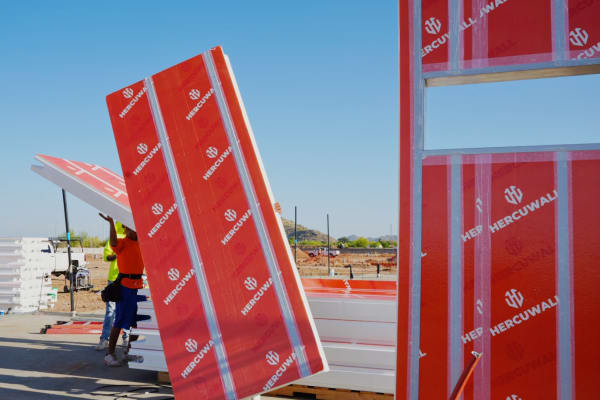 CONVENIENCE MEETS PREMIUM LUXURY
Experience what sustainable living is all about. Enhancing your everyday tasks, here are premium in-home touches at Sobremesa Villas.
EV chargers onsite and in all garages
Smart Home Technology
Bosch energy-efficient appliance packages
Tankless hot-water heater
Artificial turf in all backyards and dog parks
Dual flush toilets