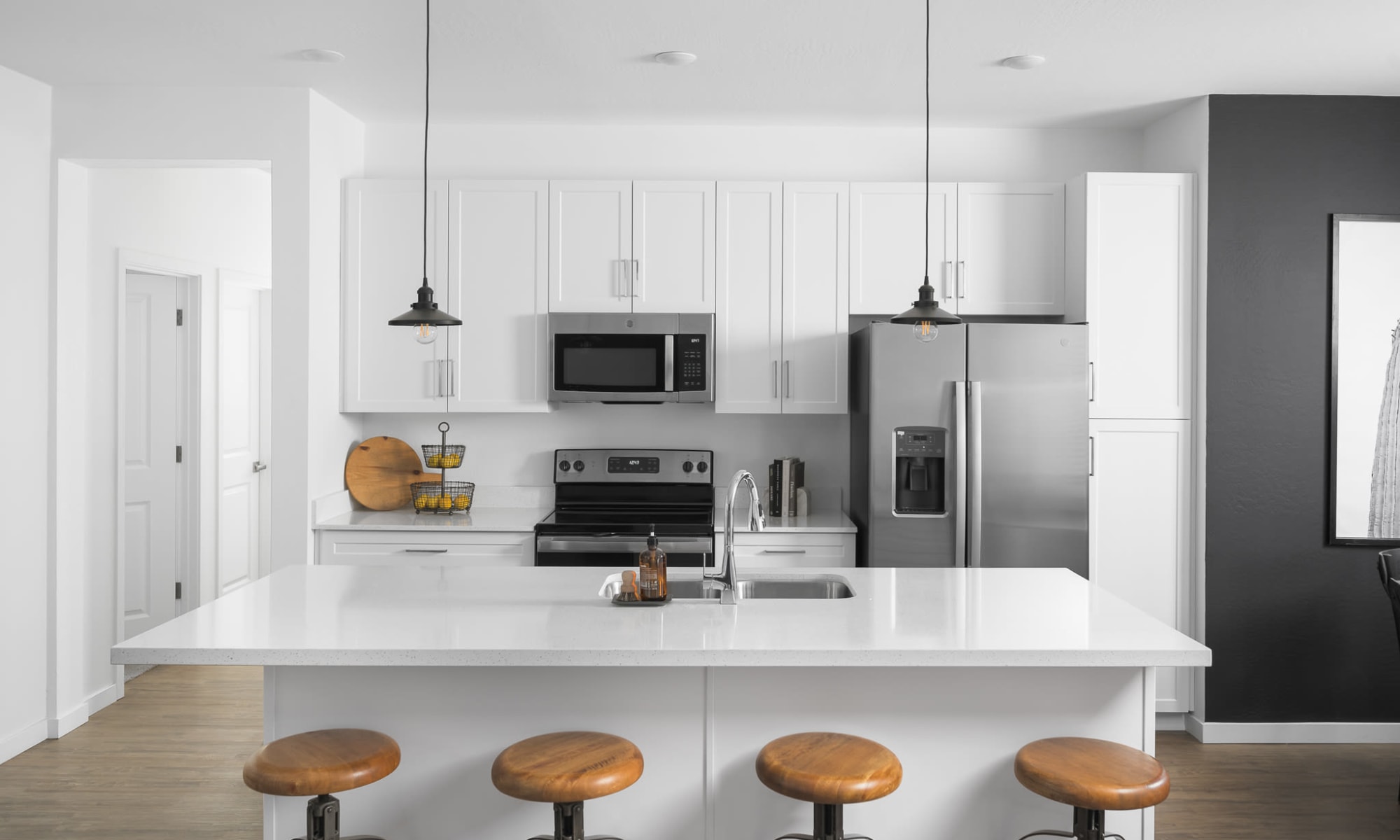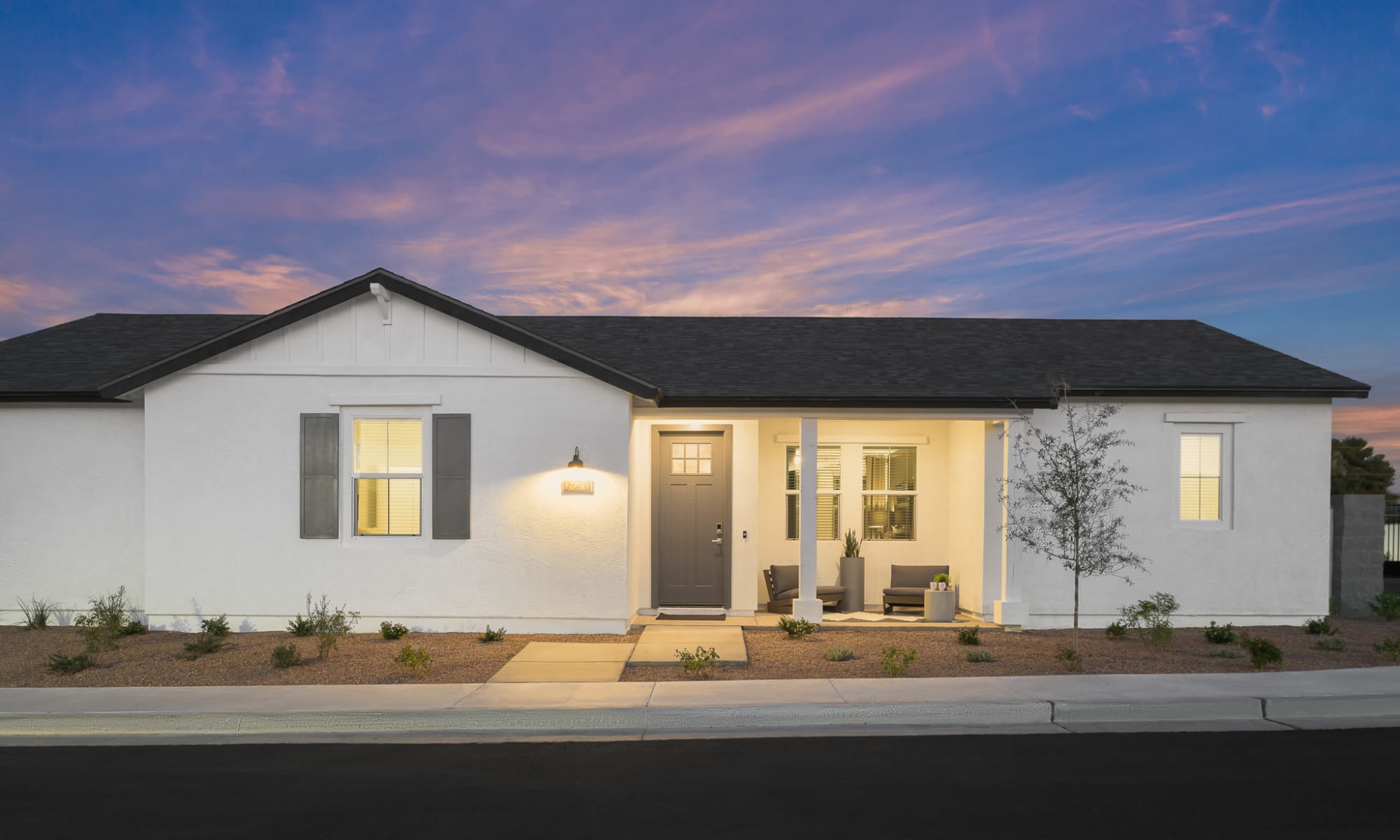 The Premier Way to Live.
Spacious Single-Family Rental Community.
Visit our brand-new leasing office located at 1540 E Burgess Ln. Phoenix, AZ 85042! 
Your Brand New Home in South Mountain Village
Cyrene at South Mountain brings you a brand new, luxury living destination in the Valley of the Sun. At our private, gated community, you'll find a sprawling three or four bedroom detached home with it's very own fenced backyard, a gourmet kitchen with stainless-steel appliances, and an attached two-car garage. Life in Phoenix, Arizona, never looked so good.
Lease one of our new, pet-friendly residences and indulge in a trendy South Mountain lifestyle. Here, you're free to unwind at our outdoor ramada as you cook up some dinner at our barbecue grilling stations. You're invited to lounge in the sunshine on our event and picnic lawns. And you're encouraged to spend time with your pup with a play session at our expansive dog park.
Beyond our gated Cyrene at South Mountain community, there are endless opportunities to get out for a little exploration. Visit the nearby Geronimo Trail at South Mountain Park and Preserve for some fresh air, pick up groceries next door at Safeway, grab dinner to go from Tortas Paquimé, get some shopping done at Legacy Village – it's all waiting for you when you live at Cyrene at South Mountain.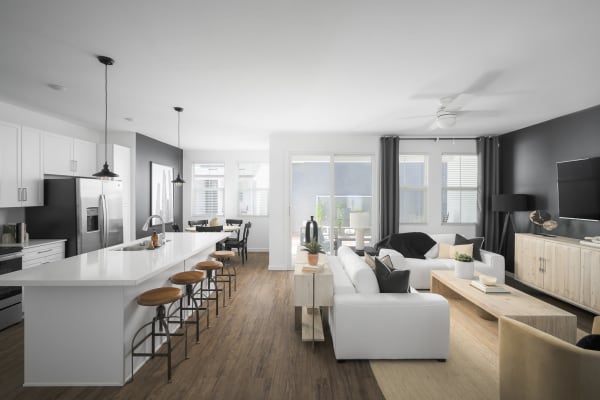 Private, Detached Living
Take a step back from the city and settle into a life of luxury in South Mountain. From the moment you see our upscale, detached residences at Cyrene at South Mountain, you'll be drawn to their soft color palette, relaxing spaces, and glamorous details.
Open your front door to an expansive three or four bedroom home and revel in the comfortable yet luxurious lifestyle you've always dreamed of. Imagine easing into your day in a spa-like ensuite bathroom and walk-in closet. After work, your smart thermostat will already have the house at the perfect temperature, so all you have to do is kick off your shoes and relax. Whip up a delicious dinner in a gourmet kitchen and dine alfresco as the sun sets over your private, fenced backyard.
This is your dream home in South Mountain Village. Lease a Cyrene at South Mountain residence today.
Spaces That Reflect Your Routine
At Cyrene at South Mountain, the pace of life is a bit slower, your day-to-day is simpler, and a sense of community means more. Our private, gated neighborhood effortlessly blends indoor-outdoor living, bringing you the ultimate home in Phoenix, Arizona.
Here, your routine is defined by you. Looking to catch some warm Arizona sunshine? Grab a picnic basket and lounge on our multi-use lawn space. Leash up your pup and head over to our onsite dog park to meet new furry neighbor friends. Feeling stressed? Grab a cool beverage and kick back in our outdoor ramada after a long workday.
This luxurious lifestyle is waiting for you in south Phoenix, Arizona. Lease a Cyrene at South Mountain home today.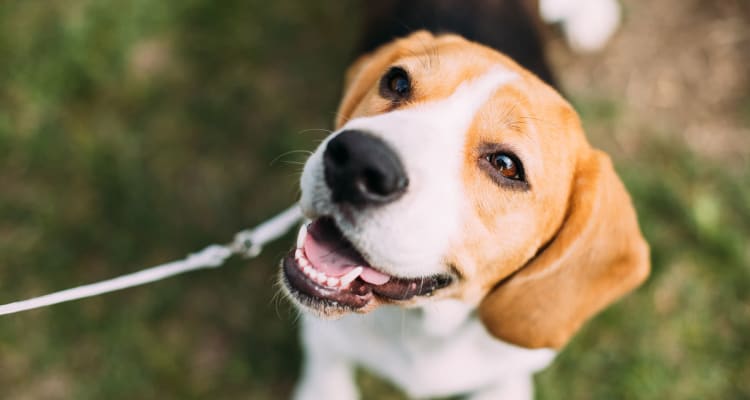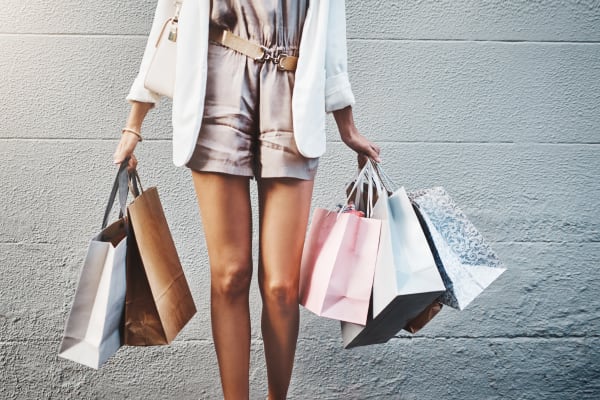 Life in the Valley of the Sun
Find your way to delicious restaurants, trendy cafés, upscale shopping destinations, and outdoor recreation when you live in South Mountain Village. With the city's hustle and bustle just up the road and the mountain landscape as your daily backdrop, the Cyrene at South Mountain lifestyle is close to convenience yet far from ordinary.
Build an afternoon around a visit to Piedras Grandes Picnic Ground. Meet up with some friends to hit the links at Raven Golf Club. Indulge in some retail therapy at the nearby Legacy Village mall. Whether you're out exploring the mountainside or running errands around town, south Phoenix, Arizona, was built for the experiences you seek.