Brand new luxury rental homes! Reserve yours today.
Canopy at Cottonwood: A Flourishing Retreat
Reimagine what your life looks like with a brand-new, high-end home in the coveted city of Casa Grande, Arizona. Canopy at Cottonwood brings fresh energy to an emerging neighborhood where you're surrounded by a beautiful desert landscape perfectly placed between Phoenix and Tucson. Arrive at our exclusive community's gated entrance and be transported to a suburban, resort-inspired oasis in Pinal County. Drive through our private community streets, pull into your one or two bedroom home's attached garage, and step inside your private space to find an unpretentiously upscale residence. Your thoughtfully designed, detached home is only the start of an ultra-appealing lifestyle. Just beyond your front porch is where luxe indoor amenities and relaxing outdoor spaces converge to form an all-around beautiful lifestyle oasis. Lease one of our high-tech, high-end homes and be immersed in it all – this is what you've been waiting for.
High-End Living. High-Tech Perks.
Just when you thought the perfect leasable home wasn't possible, you're introduced to the remarkable residences of our gorgeous community. Open the front door to a truly dreamy abode packed with all the modern perks you'd expect to see inside a newly built space – think high-tech smart home features, seamless hardwood-inspired plank flooring, and your very own fenced-in backyard with an accompanying built-in dog door.
Curious about other Canopy at Cottonwood features and perks? Visit our Amenities page, browse through our collection of virtual Photos, or get in touch with a friendly leasing agent to reserve your brand-new home today.
Exclusive Amenities. All the Access.
Find the room to breathe and the space to live bigger in our upscale, gated Casa Grande community. Be surrounded by more: more time outdoors, more time with your favorite people, more time to live, work, play, and be in the moment. Find yourself reading under our shady trees in the gentle swing of a hammock. See yourself floating the afternoon away in our stunning swimming pool.
Whichever activity you decide to do next, let it all happen naturally in our prestigious community.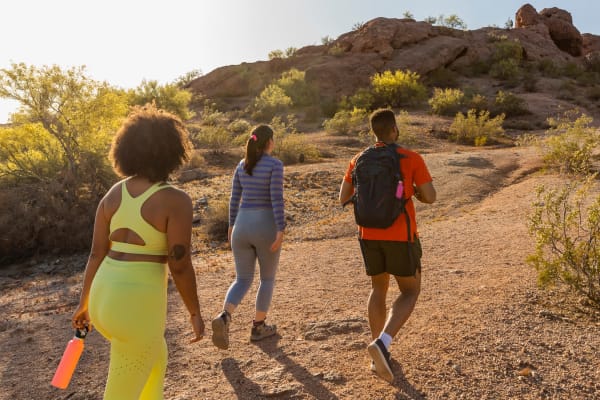 Wide-Open Spaces. Desert Beauty.
Step into a refreshing routine when you live in this newly emerging Casa Grande neighborhood at Canopy at Cottonwood. With 19 parks, 17 miles of walking and biking trails, sports fields, golf courses, nature preserves, and countless other attractions nearby, your days will be filled with all the possibilities. Wake up to new experiences, enjoy exciting activities at your fingertips, and make meaningful memories along the way when you live in Cottonwood Ranch.
Whether you're cooling off on a sunny day at the Palm Island Family Aquatic Park, enjoying sunset views from the Hanna Road Trail, or crossing a few things off your list with a trip to the Promenade at Casa Grande, life looks incredible here.